From Kyrgyzstan to Tajikistan
Trip# 11028
First fixed tour from July 4th to July 14th 2016
Second fixed tour from July 21st to July 31st, 2016
Third fixed tour from August 8th to August 18th, 2016
Fourth tour from August 25th to September 4th, 2016
The tour will start in Osh, Kyrgyzstan 
Meeting point Osh Airport. The tourists will arraive to Osh by themselves or our company can organize flights from Bishkek to Osh.
---
Duration: 11 days
Tour season: May-October
Group size: 1-15pax
Advantages of the trip
Through this region passed one of the arteries of the Great Silk Road – the route through the Pamir knot.

Visiting all trekking zones of Pamirs

Meeting different ethnic groups, and familiarize with their interesting lifestyles.

Very small number of Europeans have seen this part of the world;
Tour Itinerary
Day 1.  We will Meet in Osh. Depart to Tajikistan through Kizil Art Pass(4280m). We will go through Kyrgyz border post in Burdoba and then in 9 km we will get to tajik boder post on the top of Kizil Art pass. Later we will proceed to Kara Kul village near the biggest lake of pamirs Kara Kul lake (3923m) under the shadow of Pik Lenin (7134m). We will do a short hike to the lake. Home stay. B/L/D.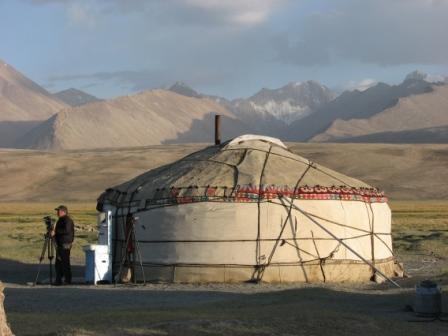 Day 2. Depart towards Murghab (3630m) via the highest pass in post Soviet area, Ak –Baital Pass (4655m). On arrival we will visit "Yak House" handicraft shop to buy some souvenirs. Guest House. B/L/D.
Day 3. Departure for Jatigumbez. On the way there will be a visit to Grot Shakhty to see the ancient color paintings on the walls of the cave and Shorbulok Observatory. If the weather allows us we will see peaks Mustagh-Ata and Kungur that are located in China. Camp/Yurt stay. B/L/D.
Day 4.Departure to Zorkul Lake. This lake is separating the frontiers of Tajiksitan and Afghanistan where the free inhabitants of both sides are thousands of migratory birds and Marco-Polo sheep. Zorkul or local name Sari Kol is the source of Oxus river as was reached by Capt John Wood in 1838. Camp. B/L/D.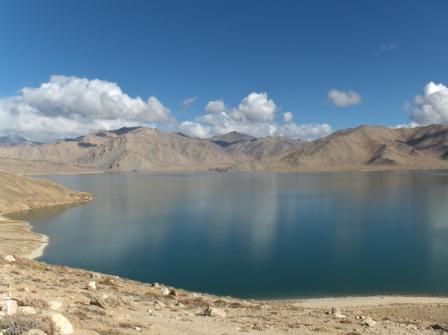 Day 5. Departure to Langar. All the way Pamir river and Afghanistan being on the left side we will reach Khargush pass and later Langar (3000m), the first village of Wakhan valley, which in old times was the meeting point of the Great Game players. We are now looking at the best of the Wakhan scenery with river Oxus making the boundary line between Tajikistan and Afghanistan. This is a photogenic day as we often come across shrines with peculiar signs and decoration. There are about 6,000 petroglyphs near Langar up in the mountain (3900m) the visit of which demands an additional day of stay in Langar. Homestay. B/L/D.
Day 6. Departure to Ishkashim. On the way we will visit Budha Stupa in Vrang, a museum of Sufi Muborak Vakhani (Philosopher and poet of XIX century. A calendar created by him was popular in East), his Solar Calendar, Ruins of Yamchun fort, Bibi Fatima spiritual Hot Spring and Ruins of Kah Kaha fortress. We will continue to Ishkashim and on arrival transfer to a local guest house. Ishkashim has a regular border point with Afghanistan. This place was the door to Badakshan and the Chinese pilgrims of 7th AD and Marco Polo must have used this passage to visit Badakhshan on the way to China. Guest house. B/L/D.
Day 7. Depart to Khorog. If this day happens to be Saturday we shall make an excursion to Tajik-Afghan bazaar near Ishkashim (It takes place on Afghan side on Saturdays and there is no need for Afghan visas). We will have a tour into the one of the side valleys to visit famous Garam Chashma Hot Springs. There are well made places of Hot water baths. Later we will continue to Khorog (2069m). On arrival transfer to hotel. B/L/D.
Day 8. Khorog. We will visit local market- the bazaar, local Museum and will have and excursion to the highest in Central Asia, Khorog Botanical garden. Hotel. B/L/D.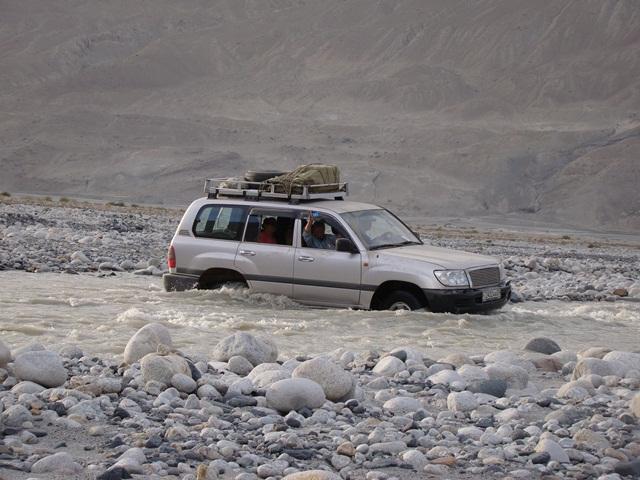 Day  9. Depart to Kala-i-Khumb (Darvaz) (1260 m). Short stops enroute in Vamar the largest village of the Rushan valley and at places of interest. Guest House. B/L/D.
Day 10. In the morning we will depart towards Dushanbe via Khaburabat Pass (3252m). This is a steep rise onto the Darvoz range. There are scenic views of the nearby valleys. Short lunch stop after the pass. Later we will continue to Dushanbe. Hotel. B/L/D.
Day 11. Dushanbe. Visit the Museum of Antiquities with a wonderful collection of Buddhist art from the lost cities of Kushan empire, the Greco-Bactrian school of art from various sites along the Oxus and elsewhere. We will also see the largest Buddha in Nirvana in the region after the destruction of Buddhas of Bamiyan. Later we shall visit Gurminj Museum of folk musical instruments and a local bazaar. Hotel. B/L/D.
Day 12. Transfer to airport. Departure Home. B.
Items to bring with you
Rain gear

Dawn jacket

Water bottle

Daypack

Sun hat Gloves

Sun glasses

Windcheater
Temperatures: please note that there can be large variations in temperatures. In daytime it can be very hot and a thin layer of clothing will be comfortable but long sleeves protect you from the sun rays. At night it can be cold so a layered approach is best. Predicting temperatures is very hard but they could range between +5°C and + 25°C.  Rainfall in the Pamirs at this time of year is not expected but dust storms are. Please take a waterproof layer just in case.