Afghan Wakhan Corridor Trek
Trip# 11015
Tour season: June-September
Group size: 1-15 pax
This is a trip right out there, on the edge of civilization. You will find no mobile reception, Internet access or even electricity for the most part of the trip! What you will experience here will take you a century back when people lived in a very different way… This trip is sure to be a true adventure of a life time. One of the arteries of the Great Silk Road – the route through the Pamir knot passed through this region. The boundaries of the Great Game players were also here. The Czarist Russia and the British Indian Empire coincided and collided in these high Pamirs and finally decided to co-exist with these high regions as their boundaries in 1890's.
Pristine mountain scenery.

Enjoying the hospitality of the Tajik, Wakhi and Kyrgyz people of Afghanistan and familiarize with their interesting lifestyles.

The chance to ride yaks!

Learn history of Great Games between Russia, Britain and India.

Driving along the famous Pamir Highway

To see the 2 major ranges of Pamirs and Hindukush 
Tour Itinerary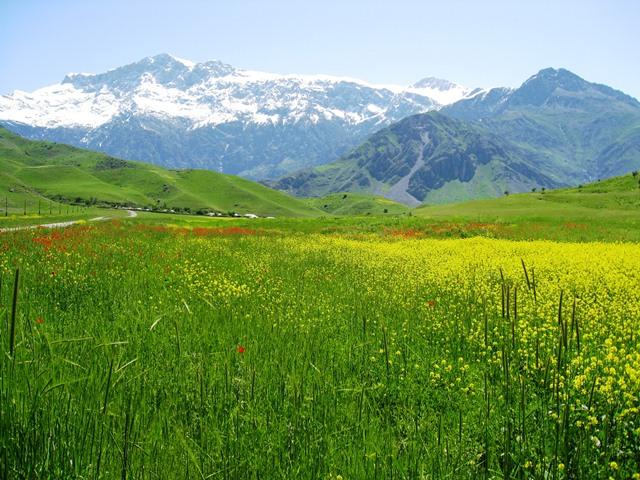 Day 1: Arrival in Dushanbe, Tajikistan (the company will meet the tourists at Dushanbe International airport), Transfer to Hotel. Rest. L/D.
Day 2: Dushanbe: Excursion around the Tajik capital, visiting the antique museum with great Buddha in Nirvana, Gurminj Museum of folk instruments and local bazaar (market) at an altitude of 800m, and with its mountain backdrop. This is the perfect place for adaptation and to be ready for the journey to the Pamirs. Hotel. B/L/D.
Day 3: Dushanbe – Kalai Khumb: Drive eastwards on the famous Pamir Highway. This road is of a vital importance for the country and ultimately it skirts the southern edge of the Tajik Pamirs. Accommodation in Guesthouse. B/L/D.
Day 4: Kalai Khumb – Khorog: We move east again. The rout will come to the regional centre of Gorno Badakhshan Khorog. It is located on the Pyanj river, a tributary of the mighty Amu Darya (the famous Oxus River). This small town is located very near the Afghan border. It is nice time to enjoy the slightly thinner mountain air. Hotel. B/L/D.
Day 5: Khorog – Ishkashim of Afghanistan (2510m): We leave Khorog in the morning and seeing Afghanistan on the right side of the rout we will continue to the cross border point in Ishkashim. Then we cross to Afghanistan through the bridge on the Panj River in Ishkashim. Accommodation in Homestay. B/L/D.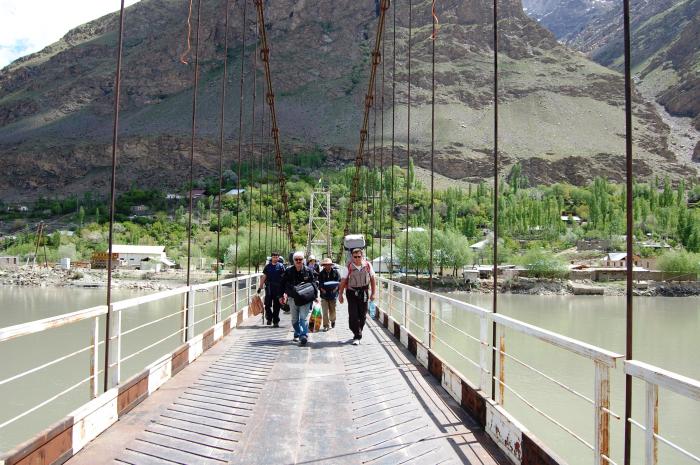 Day 6:
Ishkashim – Sarhad-e Wakhan (3270m): A long drive to the end of the road at Sarhad e-Wakhan through a narrow valley this road is rough. The scenery however is truly magnificent and in addition the group will undoubtedly meet many of the local Tajik, Wakhi and Kyrgyz peopleof Afghanistan. The women are especially noticeable with their bright red scarves and beaded necklaces. Homestay.
B/L/D.
Day 7: Trek over Daliz Pass: Start of trek, following the Wakhan River upstream towards China & Pakistan the rout will follow throw the Daliz pass (4277m) into an area populated mostly by Kyrgyz nomads before descending to the first camp.  Camp (B, L, D)
Day 8: Trek to Borak: The trip continues eastwards along the river to the small settlement of Borak (3562m). Camp. B/L/D.
Day 9: Trek to Langar: A long but gentle ascent to Langar. Camp. B/L/D.
Day 10: Trek to Kash Goz: Another full day walk to a Kyrgyz settlement Kash Goz (4000m). Many of the ethnic Kyrgyz who now live in the Wakhan are descended from families who originally came here to escape the Bolshevik Revolution in 1917. Amazingly, despite having lived in Afghanistan for almost a century, these communities have not forgotten their origins, language and lifestyle. Camp. B/L/D.
Day 11: Trek to Lake Chakmaktyn Kul lake (4015m): Passing Bozai Gombaz, the traditional burial grounds of the Kyrgyz the rout will reach the summer home of many nomadic families Lake Chakmaktyn. Camp. B/L/D.
Day 12: A rest day at Lake Chakmaktyn: Relax day. Can have some easier walks around the lake. We will meet with Afghani Kyrgyz nomadic people and their traditional hospitality. Camp. B/L/D.
Day 13: Trek to Aqbelis: Retracing steps to Bozai Gombaz we then take a different path to pick up the high route back to Sarhad e wakhan. This route is far away from the Wakhan River and into the heart of the mountains. Camp. B/L/D.
Day 14: Trek to Garumdee: Heading over the Aqbelis pass (4595m) today we will make a high camp at Garumdee (4500m). B/L/D.
Day 15: Trek to Barnaoz: Crossing the highest pass of our trip (Uween-e-sar, 4887m) involves a steady ascent and descent. The pass itself is not technical and very scenic where peaks above 6000m can be seen around. Camp. B/L/D.
Day 16: Trek towards Borak: Heading southwards we will make our way over the Kotal-e Qarabel pass (4820m) into a summer home to many Wakhi herders the Wutsir valley. Camp. B/L/D.
Day 17: Trek towards Sarhad e-Wakhan: We arrive back to Sarhad e-Wakhan. Homestay. B/L/D.
Day 18: A day for relax in Sarhad. Homestay. B/L/D.
Day 19: Drive to Garm Chashma (Hot Spring): Driving back along the Wakhan Corridor to hot springs. Camp. B/L/D.
Day 20: Drive to Khorog: We arrive back to Ishkashim, cross the border into Tajikistan and drive to Khorog. Hotel. B/L/D.
Day 21: Drive to Kalaikhum. Guesthouse. B/L/D.
Day 22: Drive to Dushanbe. Final drive back to the capital of Tajikistan. Hotel.
Day 23: Tour ends in Dushanbe. Transfer to the airport in the morning.
Items to bring with you
Sleeping bag

Silk sleeping bag

Mattress Term-a-rest

Rain gear

Dawn jacket

Water bottle

Daypack

trekking socks

Sun hat
Temperatures: please note that there can be large variations in temperatures. In daytime it can be very hot and a thin layer of clothing will be comfortable but long sleeves protect you from the sun rays. At night it can be cold so a layered approach is best. Predicting temperatures is very hard but they could range between +5°C and + 25°C.  Rainfall in the Pamirs at this time of year is not expected but dust storms are. Please take a waterproof layer just in case.