Bicycle Cross Country Itinerary
Trip# 11021
Tour season: June-October 
Group size: 1-15 pax

Pristine mountain scenery.

Enjoying the hospitality of the Tajik, Pamiri and Kyrgyz people and familiarize with their interesting lifestyles.

Ride along the famous Pamir Highway

To see the major ranges of Pamirs 
Tour Itinerary
Day 1. Arrival to Dushanbe. Meeting at the airport. Transfer to the hotel . L/D.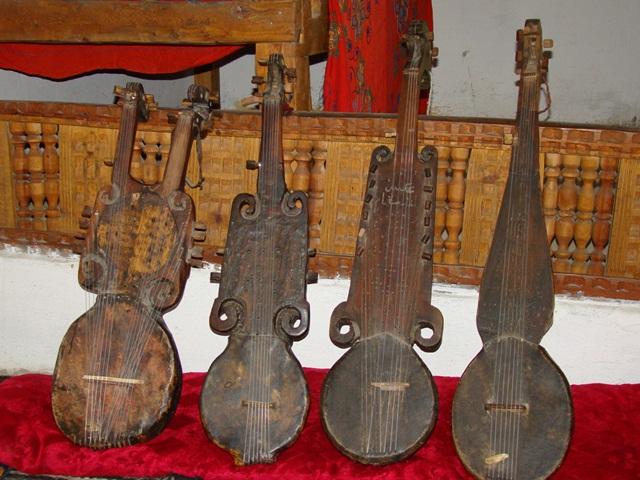 Day 2. Visit to Gurminj Museum of traditional musical instruments and Museum of Antiquities, a wonderful of Buddhist art from the lost cities of Kushan empire, the Greco-Bactrian school of art from various sites along the Oxus and elsewhere, with great Buddha in Nirvana (After destroying of Bamian Buddha in Afghanistan this is the biggest Buddha in Central Asia). Walk on an exotic bazaar. Hotel. B/L/D.
Day 3. Bicycle excursion toward Varzob Valley for acclimatization and back to Hotel. B/L/D.
Day 4. Transfer to Khorog (2100m), capital of Mountainous Badakhshan Autonomous Region. Hotel. B/L/D.
Day 5. Khorog. City tour, visit museum and the highest botanical garden. Acclimatization. Hotel. B/L/D.
Day 6. On bikes, riding up along Gount river, about 40 km. Camping at 2350m above sea level. Adaptation. Camp. B/L/D.
Day 7. Riding up to the altitude approximately 3450m above sea level. Day trip distance 50km. Camp. B/L/D.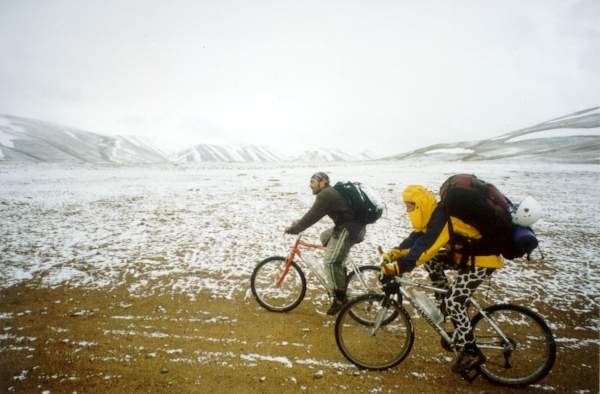 Day 8. The first part of the day, riding on the bikes up, to the altitude of 3880m. The distance about 35km. The second part of the day is reserved for the rest for the better acclimatization in Jelondi Hot Spring. Accommodation in a motel. B/L/D.
Day 9. Climb to the pass Koi-Tezek, 4277m above sea level. Camp at altitude 4050m. Day trip distance 40km. B/L/D. 
Day 10. Climb to pass Tagarkaki (4168) and downhill to the lakes Bulunkul and Yashilkul, situated at the attitude 3800m above sea level. Visit of a thermal spring. Homestay. B/L/D. 
Day 11. Accross Alichur desert (about 40km of difficult dirty road) to the Akbalik ("white fish") sacred lake. This small lake is more similar to an aquarium because of absolutely transparent water and huge amount of a fish. Camping at 4000m above sea level, day trip distance 45 km. B/L/D. 
Day 12. Climb to Naizatash pass (4314m) and down to Mourgab village (3700m), the highest village on the territory of the former USSR. Day trip distance 70 km (this uphill is not difficult). Homestay. B/L/D.
Day 13. Along the river Akbaital (white horse), up to the pass Akbaital. Camp 25km far from the pass at the altitude of more than 4000m. Day trip distance about 70 km. B/L/D.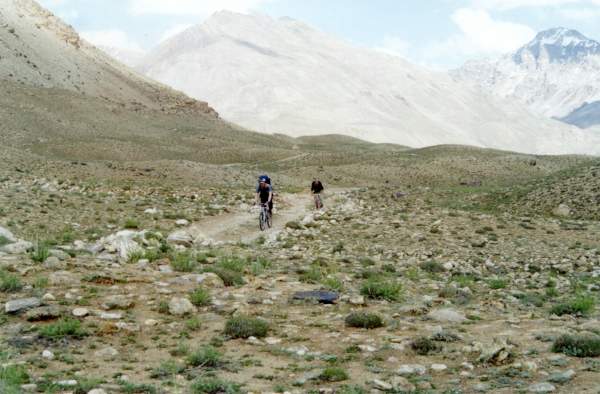 Day 14. The rest of the way to the Akbaital pass (4655m), the highest pass on the way. Camp at high attitude, just near the pass, at 4550m above sea level. Day trip distance 35 km. B/L/D.
Day 15. To Karakul lake, the greatest Pamir lake situated at 3920m. Day trip distance 55 km. Camp. B/L/D.
Day 16. Through Uibulok pass (4278) to the Markansu valley (Valley of death). This valley is also called "The valley of 1000 tornados" due to harsh winds where. Camp near Kizil Art pass, on 4100m. Day trip distance 40 km. B/L/D.
Day 17. Kizil Art pass (4282m) and down to Alay valley (3200m). Day trip distance 55 km. Camp. B/L/D. 
Day 18. To the International Mountaineering Camp situated at 3800m, near Lenin peak (7134m). Accommodation in tents at the base camp. Day trip distance 20 km. B/L/D. 
Day 19. Transfer by vehicles to Osh. Accommodation in hotel. B/L/D.
Day 20. Transfer to the airport. Departure home. B.
Items to bring with you
Temperatures: please note that there can be large variations in temperatures. In daytime it can be very hot and a thin layer of clothing will be comfortable but long sleeves protect you from the sun rays. At night it can be cold so a layered approach is best. Predicting temperatures is very hard but they could range between +5°C and + 25°C.  Rainfall in the Pamirs at this time of year is not expected but dust storms are. Please take a waterproof layer just in case.